Education for Parents-To-Be
At Graceful Birth our goal is to equip parents-to-be with practical tools and information to help foster a better birth and postpartum experience.
---
Childbirth Prep Workshop – Covering the Basics of Childbirth
This series is designed to equip couples with well-rounded childbirth information. This class will also spend a significant amount of time focusing on relaxation techniques from various sources including Lamaze®, HypnoBirthing® and Birthing from Within®. We will also learn and practice massage techniques, and breathing exercises to help prepare the mind and body for childbirth. We will be working towards an understanding of the Natural Childbirth method. This class will also provide the birth companion with tips on how to help the labouring mom stay comfortable and focused during labour and birth.
Find out more >>>
---
NEWBORN AND BREASTFEEDING WORKSHOPS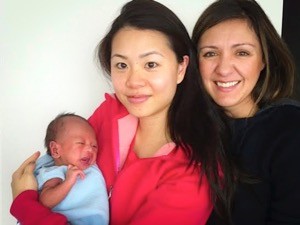 Newborn Care- Topics covered:
Newborns – the first few weeks of life
Diapering options and how to care for your newborn's delicate skin
Understanding infant sleep and how you can get some sleep
Bathing
Safe sleep and SIDS
Bowel and bladder function
Breathing
Newborn senses
Eating how to know your baby is getting enough
Breastfeeding
Some people have an idealized view of breastfeeding as a simple, instinctive, natural process. And in some respects it is, but it is also a skill that needs to be learned. Together with your baby, you will learn to breastfeed.
Topics covered are:
›Benefits of breastfeeding
Barriers to breastfeeding
Breast anatomy
Attachment
Feeding positions
Signs of effective breastfeeding
Common breastfeeding challenges
Recommendations
Other options if breastfeeding is not possible
Storage of breastmilk
Resources
Find out more >>>
---
Graceful Birth Doula Service
Our doulas desire to see families in the Mississauga and surrounding areas receive exceptional and compassionate care during pregnancy, labour, and the postpartum time.
Mississauga Doulas are a part of Graceful Birth Doula Services. To find out more about our complete service offerings, including our various birth, breastfeeding and infant care classes, please visit www.gracefulbirth.ca